In stock
SKU
LIQ-810-Tropical-Yellow-Egg
NICOTINE SALT
NICOTINE SALT & POD DEVICE
The products you've all been waiting for!

Vape Pleasurably
Hi-Salt E-liquid is a new line of hand-crafted E-liquids from HiLIQ containing its very own, perfected Nicotine Salt. Smooth throat hit, gentle vape feels and truly tasty flavours are what to expect in this new product line. Offered in 5 variants of flavour with nicotine salt strength from 20mg to 40mg.

Designed for low wattage

Good for portable Vape devices

Smoother Throat hit
NICOTINE SALT
Today's Nicotine
Hi-salt Nicotine salt is a kind of nicotine that originates from tobacco leaf, extracted naturally from pure nicotine. It is a more stable form of nicotine compared to the currently available freebase nicotine in the market. It provides high nicotine density with smoother throat hit. The nicotine is easily absorbed by the lungs and felt by the mind thus, providing instant satisfaction.
200MG
100ML
$16.99
HiLIQ offers Nicotine Salt Base in 200mg in *100ml, *250ml and *1L.
*HILIQ reserves the right to sell with quantity and bottle size
limitation depending on current production.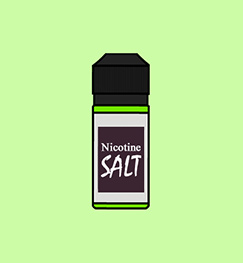 BENEFITS OF USING NICOTINE SALT
Safe and Portable

Sleek and Stylish

Nicotine Salt Ready
CERTIFICATES
We ensure the products you are using are tested and validated to be safe and free from harm. Here's are our test results from reputable labs
| | | |
| --- | --- | --- |
| Certificate of Analysis | Material Safety Data Sheet | Smoke Test Report |
| | | |
More Information

| | |
| --- | --- |
| Display Product Options In | Block after Info Column |