This 100-200mg/ml nicotine base is blended with USP grade Vegetable glycerin and/or Propylene Glycol.
100mg/ml means that there is 10% in the bottle, 200mg/ml has 20% Pure Nicotine inside.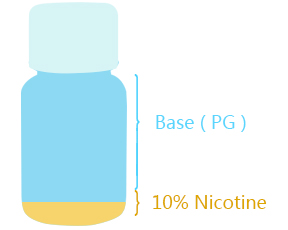 This nicotine base is unflavored and is dedicated only for DIY mixing. It's highly advisable to do it in a laboratory or to well-ventilated areas where there are no kids and pets nearby and has easy access to exit.It's fun given the right tools, materials and information. It takes a different kind of experience being able to create the juice you vape. It could also open up a lot of opportunities starting from getting popular on your local community up to opening up an E-liquid trade business. However, you must ensure warnings and cautions are observed, thus, knowledge and advance research is required.
Order of Mixing
Flavor concentrate 》 Nicotine base 》 Liquid base

How many ml nicotine base?
100mg/ml nicotine base
200mg/ml nicotine base DIY


* Important Reminders:
1. Wear protective tools ( Disposable HDPE Gloves, Protective Eyewear, Disposable Sterilized Mask ) when you are DIYing and do it a well-ventilated areas
2. Dilute your Nicotine base to lower percentages. 6mg/ml to 12mg/ml nicotine density are most recommended for Vaping.
3. Do not mix the flavor concentrate from different brands. HiLIQ is unable to guarantee other brands'taste quality and safety. HiLIQ flavor concentrates are food grade and is extracted from natural resources, no sweetener and food coloring added. Most of the flavor usage are 8%-15%, depending on Flavor intensity preference. Don't use the concentrate in excess for your own safety and to avoid inappropriate over taste. Please put under 6%-15% flavor concentrate if you need more flavors mixtures.
* Warning
1. Contains high strength Nicotine, not for direct use.
2. Keep out from Reach of children, pets and unaware adults
3. Avoid be inhaled or absorb through skin4. Use with proper information, tools and laboratory/facility.
* First Aid:
1. Contact with skin: wash with Saline solution or running water
2. Contact with Eyes: Rinse Eyes with water in 15 minutes
3. Inhaled: leave the area or seek medical advice
4. Taken Orally: Do not induce vomiting without contacting a doctor or poison center If any untoward incidents of overexposure, dial emergency.
More Information

| | |
| --- | --- |
| Display Product Options In | Block after Info Column |